Carillion: Ex-chairman Philip Green takes blame for collapse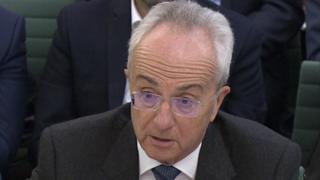 Former Carillion chairman Philip Green has taken the blame for the collapse of the company last month.
Mr Green was in the post when the construction giant, which provided services for schools, hospitals and prisons, went into liquidation.
"My responsibility is full and complete – not necessarily culpability but no question about full responsibility," he told the Work and Pensions Committee.
The committee has been quizzing former directors about the company's demise.
Earlier, the company's former finance director, Zafar Khan, denied being "asleep at the wheel" during his time in the role.
'Spooked the board'
Mr Khan was not working for the company when it collapsed, having been sacked last September, but he said: "I believe I did everything that I could have done.
"As soon as I came into the role, we were looking to tackle the issues. The key focus of my time in the role was to bring net debt down."
In a stormy committee session, Mr Khan also said he "spooked the board" when he reviewed the company's contracts.
But former Carillion chief executive Keith Cochrane has told MPs that was not the reason for Mr Khan's dismissal.
Mr Cochrane accepted that Mr Khan's findings were correct but told the committee: "Our concern was whether he was fully on top of all the cashflow arrangements and close to what was actually happening."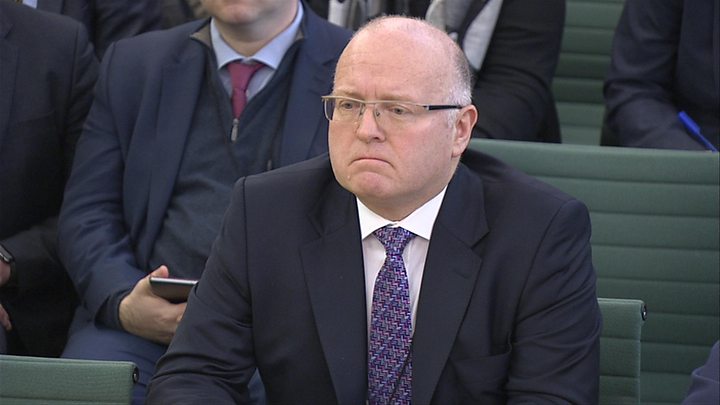 He added that Mr Khan's dismissal happened at the same time as other senior management changes.
Mr Cochrane, who only took charge last July, said he was "truly sorry" about the company's collapse.
"It was the worst possible outcome. This was a business worth fighting for. That's what I sought to do during my time as chief executive," he said.
The previous chief executive Richard Howson ran the company for six years before stepping down after a profit warning.
Mr Howson told the committee that towards the end of his time in the role, he "felt like a bailiff just to try and collect cash".
He added: "The amount of energy and effort to make sure there is enough cashflow each month is extraordinary."
Mr Howson said he believed the company was "run well" but highlighted some of the difficulties in bringing in money owed to the company.
He described a job in Qatar for which Carillion was owed around £200m at the time he was replaced by Mr Cochrane and which has now been put back until the end of this year.
And he also spoke about the building of the Royal Liverpool Hospital which seemed completed until cracked beams were discovered.
Carillion employed 43,000 people, including around 20,000 in the UK.
This month alone, more than 800 job losses have been announced and Mr Cochrane said: "Do I wish we'd done something about it sooner? Absolutely.
"Clearly with the benefit of hindsight should the board have been asking further, more probing questions? Perhaps."