Regulator mulls compensation for bank scams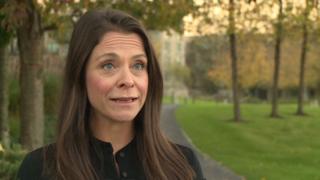 "Good progress" has been made on protecting consumers from authorised push payment (APP) scams – where people are tricked into sending money to a fraudster – a regulator has said.
The Payment Systems Regulator (PSR) said progress was being made "across a wide range of initiatives".
However, in the first half of this year 19,000 victims lost £100m. The PSR is looking into how to reimburse victims.
Its report follows a super complaint by Which? that highlighted the problem.
That prompted an initial review, published in 2016, which found there was insufficient information about the scale of the problem.
The PSR is looking into the best way to compensate victims and hopes a system will be in place by September 2018.
It said that APP scams were crimes that could have a devastating effect.
One who suffered such a scam was Kate Blakeley, who lost almost £300,000 when trying to complete a house purchase when the money was diverted to a fake account.
As well as starting to record and understand the scale of APP scams, the PSR will also introduce new standards that banks will have to follow when a victim reports such a scam, which should improve victims' experience and banks' response times.
However, PSR managing director Hannah Nixon warned that not every scam could be prevented.
"There is no silver bullet for APP scams, and some people will still, unfortunately, lose out," she said.
"That's why we've continued to look for a solution that could reimburse those who are scammed, and today we begin consulting on an option that we think could work."
She added that account holders also needed to take "an appropriate level of care" in protecting themselves.