Thomas Cook pilots stage 12-hour strike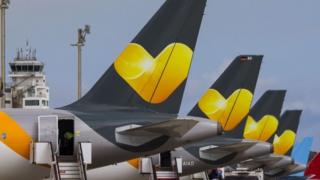 Pilots at leisure airline Thomas Cook have gone on strike in a dispute over pay, in what unions say is the first strike by UK pilots since the 1970s.
Members of the British Airline Pilots' Association (Balpa) walked out at 3 o'clock on Friday morning.
Thomas Cook failed to obtain an injunction preventing the action but said flights were operating during the walk out.
Balpa said it had taken the action "extremely reluctantly".
'Enough is enough'
Balpa general secretary Brian Strutton said: "Thomas Cook pilots have faced year-on-year, real-terms pay cuts, and cuts to terms and conditions, and our pilots have said 'enough is enough'.
"We have, however, kept this action to a minimum – just 12 hours. Thomas Cook have stated that all of its flights will operate – we hope that this is true, as Thomas Cook's customers are not to blame for this action."
The company said Thomas Cook pilots, who were not in the union, had ensured the strike did not have an impact on flights or inconvenience customers.
Mr Strutton said Thomas Cook offered a 1.5% pay rise which was changed to 4% over two years during talks at the conciliation service.
The union is seeking a one-year deal "substantially" in excess of the Retail Prices Index (RPI) inflation rate. The RPI rate stood at 3.6% in July.
'Tough environment'
Peter Fankhauser, chief executive of Thomas Cook said any pay rise had to be "reasonable and affordable" because the company was competing with low cost airlines such as Ryanair and EasyJet.
Mr Fankhauser said costs were going up because they had to pay for aircraft fuel in dollars and many air traffic control costs in Euros while the pound had fallen in value.
He said Balpa had asked for an annual salary increase of more than 10%.
"Obviously we work in an extremely tough environment. We have offered basically 4% over 2 years on top of normal annual pay increases of 1.8%.
"We have an offer which is clearly above inflation. We have moved 3 times.
"Balpa has not moved at all, so we really ask Balpa to come back to the table to negotiate with us."
The union said it remained committed to finding a solution to the dispute which meant Thomas Cook putting forward a pay offer its pilots could accept.