Open University vice-chancellor Peter Horrocks resigns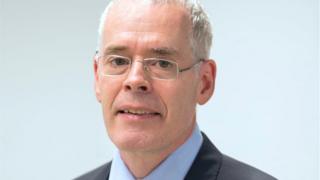 Open University vice-chancellor Peter Horrocks has resigned after a vote of no-confidence by academic staff.
He said the OU faced "a scale of challenge that is unprecedented" but he was "ready to move on".
The OU, which has suffered a collapse in student numbers, aims to save £100m from its £420m annual budget by cutting courses and staff.
Mr Horrocks had angered staff by saying academics "get away with not teaching" and the cuts were "reprioritising".
He later apologised, saying: "I sincerely regret that my careless language caused offence or hurt."
But the academics union, University and College Union (UCU), called for him to go last week, saying its members had no confidence in his plans or intentions for the university.
They said they were pleased he had listened and resigned.
University bosses paid tribute to him, with pro-chancellor Richard Gillingwater saying Mr Horrocks made an "enormous contribution to securing the future of the Open University".
The announcement came a few days after the governing body of the university met to discuss academics' staff's vote of no confidence.
'Great institution'
In his resignation statement, Mr Horrocks – who took up the post three years ago – said he was "ready to move on, having achieved my primary goals".
He said: "The OU faces a scale of challenge that is unprecedented.
"The requirement for social justice in education is acute and the demands for new skills are ever present, which means that a great institution like ours is needed more than ever.
"I know that all members of the university will continue to commit themselves to the changes necessary to live up to these opportunities."
He added that he had given "everything I could" to the cause of part-time learning.
He has resigned with immediate effect, but will continue working for the university for "a few months" as he hands over to the acting vice-chancellor.
Welcoming his resignation, UCU regional official Lydia Richards said: "The Open University is a fantastic institution and Horrocks' replacement must defend the unique role it plays in our education system and the work of its staff."
She also called for his plan to cut staff and courses to be axed.
However, the university governing body is expected to continue the bulk of the plans he drew up on changing the university curriculum.
The university is projecting an annual deficit of around £20m and has been badly affected by a severe drop in the number of part-time students in England.
Mr Horrocks had previously worked at the BBC for 33 years, leaving his post as director of the BBC World Service Group in 2014.
The OU was founded in 1969 to offer higher education distance learning to students who often did not fit the traditional undergraduate mould – many were older and studying part-time while working.