Teachers raise concerns over Sats marking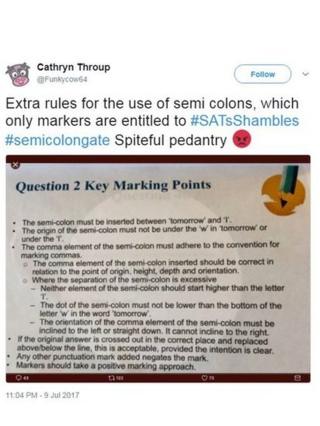 Primary school teachers in England have taken to social media to vent their anger about what they claim are inconsistencies in the marking of this year's national curriculum test (Sats).
Using the hashtag #SATsshambles on Twitter, teachers have listed a range issues and are calling on all schools to go through their pupils' marked papers to check for errors.
The Department for Education said results of the tests were "robust and accurate" but head teachers could apply for a review of contested marks.
According to the teachers tweeting, 10- and 11-year-olds were asked to put punctuation in a pre-written sentence and – even though they got the right answer – did not get a mark because their commas were not curved the right way or their semi-colon was too large or not in precisely the right place.
Primary teacher Liz Hindley, who tweets as @Leaping_liz, put up pictures of four answers all featuring the semi-colon in the correct place, but two were given a mark and two were not.
"The lack of consistency is so frustrating," she said.
Her concerns were echoed by other tweeting teachers.
Other teachers raised similar issues, such as pupils' answers straying outside of the box.
Writer and poet Michael Rosen tweeted: "The punctuation police demand that the mark has to be drawn correctly and at the right angle."
A spokesman for the DfE said there were "a number of measures in place to ensure that schools' Key Stage 2 writing teacher assessment judgements are robust and accurate".
"The Standards and Testing Agency takes any issues with the accuracy of schools' teacher assessment judgments very seriously.
"Any concerns about particular schools should be reported to the STA so that they may be properly investigated."
'Open to gaming'
But teacher unions criticised the marking for being inconsistent, saying pupils were being marked down on a technicality when it was clear they knew the correct answer to the question.
Russell Hobby, general secretary of school leaders' union NAHT, said: "We now operate within a testing culture which appears focused on catching young children out rather than recording their achievements.
"Such a culture will swiftly erode the confidence of parents and teachers that the system is operating in the best interests of pupils.
"The stakes are so high that we seem unable to apply reasonable common sense."
Kevin Courtney, general secretary of the National Union of Teachers, said: ""We already know that moderation is inconsistent and open to gaming.
"Now, teachers are finding out that marking is unreliable too.
"The system does not deserve anyone's trust, and it should not be the basis on which schools are held to account."
Last week, official figures showed two-fifths (39%) of primary school pupils in England had failed to meet the expected standard in reading, writing and mathematics.
However, this summer's results were an improvement on the success rate last year (53%), which was the first year of new, more rigorous tests.