Harvey Weinstein: Police in US and UK launch investigations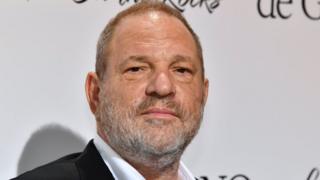 Police in the US and UK have launched investigations into allegations against film producer Harvey Weinstein.
The New York Police Department is looking into an allegation dating from 2004 and reviewing whether there are any additional complaints.
London's Metropolitan Police has received an allegation of sexual assault in the London area in the 1980s.
Weinstein has "unequivocally denied" any allegations of non-consensual sex.
Speaking on Wednesday, the movie mogul said: "We all make mistakes – second chance I hope."
He told TMZ: "Guys I'm not doing OK but I'm trying; I've got to get help. I'm hanging in – I'm trying my best."
TMZ reported he was heading to Arizona to a treatment facility.
As he departed in a car, the 65-year-old made a plea for fair treatment from reporters, saying: "I've always been loyal to you guys… I've been a good guy."
British actress Kate Beckinsale is one of the latest people to accuse Weinstein of inappropriate behaviour, saying she had an encounter with him aged 17, at the Savoy Hotel in London.
The Underworld star said on Instagram she was told to go to his room, where he "opened the door in his bathrobe".
"After declining alcohol and announcing that I had school in the morning I left, uneasy but unscathed.
"A few years later he asked me if he had tried anything with me in that first meeting. I realised he couldn't remember if he had assaulted me or not," she said.
British actress and model Cara Delevingne also said he tried to kiss her as she tried to leave a hotel room.
In other developments the hosts of the Oscars are to hold emergency talks this weekend to consider Weinstein's future role.
The Academy of Motion Picture Arts and Sciences said the allegations of sexual assault against Weinstein were "repugnant".
The US academy, which has handed out 81 Oscars to films produced by Weinstein's Miramax studio and the Weinstein Company, said it would meet on Saturday to "discuss the allegations against Weinstein and any actions warranted by the academy".
Bafta, the British Academy of Film and Television Arts, has already suspended his membership.
A statement has also been issued by Cannes Film Festival, which Weinstein attended many times.
President Pierre Lescure said the festival had been "dismayed to learn of the accusations".
"These actions point to a pattern of behaviour that merits only the clearest and most unequivocal condemnation," he said.
"Our thoughts go out to the victims, to those who have had the courage to testify and to all the others. May this case help us once again to denounce all such serious and unacceptable practices."
The statements follow the news that Weinsten's wife, Georgina Chapman, 41 is leaving him.
Weinstein's spokeswoman Sallie Hofmeister said the film producer "obviously can't speak to anonymous allegations, but with respect to any women who have made allegations on the record, Mr Weinstein believes that all of these relationships were consensual.
"Mr Weinstein has begun counselling, has listened to the community and is pursuing a better path."
---
Follow us on Facebook, on Twitter @BBCNewsEnts, or on Instagram at bbcnewsents. If you have a story suggestion email entertainment.news@bbc.co.uk.