Northamptonshire County Council 'should be scrapped'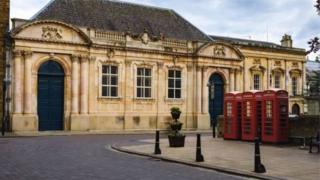 Cash-strapped Northamptonshire County Council should be scrapped, according to a government report.
The report, ordered by Local Government Secretary Sajid Javid, recommends "a new start" which is "best achieved by the creation of two new unitary councils".
Council leader Heather Smith resigned following the report's publication.
Northampton North MP Michael Ellis called the management of the authority a "national scandal".
He said he was "appalled" by the report, which "makes for chilling reading".
Conservative councillor Ms Smith criticised "vicious attacks by four local MPs", adding "you cannot win" if the "machinery of government turns against you".
In February, all seven of the county's Tory MPs said they had lost confidence in the authority's leadership.
Max Caller, who led the government investigation, said Northamptonshire should have two new unitary authorities by 2020, one covering Daventry, Northampton and South Northamptonshire and the other covering Corby, East Northamptonshire, Kettering and Wellingborough.
That would mean the county council would cease to exist.
Mr Caller also said government commissioners should be sent in to the authority.
He added that "living within budget constraints is not part of the culture" of the council.
The report said its findings are "very serious" for the council and its residents.
The council "did not respond well, or in many cases even react, to external and internal criticism", Mr Caller said.
He added individual councillors "appear to have been denied answers" to legitimate questions.
In October, the council launched a campaign for fairer funding from the government.
However, the report said the authority had not been "particularly badly treated by the funding formula".
Mr Caller was also critical of the council's 'Next Generation Model,' which planned to outsource all services and create four new bodies for child protection, care of vulnerable adults, providing health and well-being services, and improving the county.
The report said the model did not have "any documented underpinning" of how it intended to deliver £68m of savings, and "served to obscure and prevent effective" budgetary control.
It does add the council "employs many good, hardworking, dedicated staff".
Northamptonshire County Council's financial crisis timeline: