Question Time: Theresa May quizzed over 'broken promises'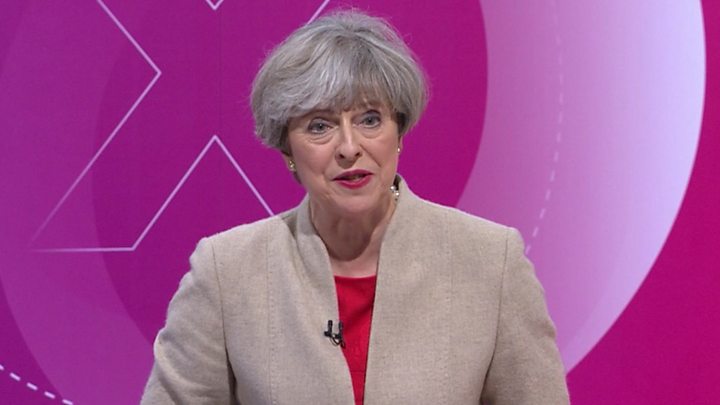 Theresa May has hit back at claims she broke promises as PM and home secretary, in a Question Time election special.
She changed her mind on holding an election "because of Brexit," she said.
She denied calling it for her own political ends – and has not been "surprised" by her shrinking opinion poll lead.
Mrs May and Jeremy Corbyn are being grilled by members of the public in a BBC Question Time election special.
The party leaders are appearing consecutively, rather than head-to-head, with Mrs May going first.
The Conservative leader defended her previous support for staying in the EU.
"I did say at the time I thought there were advantages to remaining in the European Union," she said, but added that she had not said "the sky would fall in" if Britain left.
But she said she now wanted to "deliver on the will of the people" but also to "make sure we make a success" of Brexit.
She said a good Brexit deal would benefit other EU countries – and they had not ruled out trade talks before the "divorce bill" is settled, only that there needed to be "sufficient progress" towards this first. She added that some had said they want to "get to the trade deal quickly".
She has also hit back at criticism of her decision not to take on Jeremy Corbyn in a head-to-head debate, saying: "I don't think seven politicians arguing among themselves is that interesting or revealing."
She faced detailed scrutiny from the audience on her planned social care reforms, after an audience member asked: "What is the point of us working our whole lives and building up a pension if it's all going to be taken away again to pay for our care should we need it?"
In the run-up to the event, Labour's general election coordinator Andrew Gwynne said he had advised Mr Corbyn to "be who you are" and he said his party's policies were proving popular with voters.
Defence Secretary Michael Fallon said the election was all about who would be the best leader to take Britain through Brexit and Mr Corbyn had "an awful lot to prove".
Another Question Time special on BBC One on Sunday will see Lib Dem Leader Tim Farron go up against SNP leader Nicola Sturgeon. It will start at 17:55 BST and last an hour.
Both Question Time specials are being presented by regular host David Dimbleby.