Boris Johnson says UK wants better relations with Russia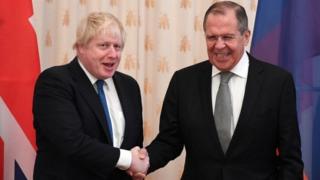 Boris Johnson has said the UK's relations with Russia are "not on a good footing" but he wants them to improve, after talks in Moscow.
Russia's foreign minister Sergei Lavrov accused the UK of making "insulting" statements ahead of the meeting.
But he said he trusted Mr Johnson and they had agreed on the need to work together on UN Security Council.
Mr Johnson is the first UK foreign secretary to visit Russia in five years.
Mr Lavrov said it was no secret that Britain's relations with Russia were at a "low point".
Cyber attacks
And he accused Britain of making a series of "aggressive and insulting" public statements ahead of their meeting, saying Russia had done nothing to justify being seen as an aggressor, in relation to its actions in Ukraine and Syria.
"I cannot recall any of Russia's actions that would be aggressive in relation to the United Kingdom. We did not blame London for anything.
"On the contrary, we have heard accusations, even insultingly formulated – that we support the criminal regime in Syria, that we are aggressors, that we are occupiers, we annex other territories.
"And all this despite the fact that on all the regional issues in question, and on many others, all information about what our position is, what it is based on, is regularly provided."
The pair also clashed over Russia's alleged attempts to interfere in elections in the West, following UK Prime Minister Theresa May's warnings about the risks of Russia's "sustained campaign of cyber espionage and disruption".
Mr Lavrov accused Mr Johnson of being a "hostage" of untrue Western narratives on the issue, insisting Russia had not meddled in elections in other countries.
'Trust'
Mr Johnson said there was "abundant evidence" of Russian interference in polls in the US, Germany, Denmark and France.
Mr Lavrov hit back by telling Mr Johnson he himself had said Russia had not interfered in Britain's general election and Brexit referendum.
Mr Johnson interrupted his Russian counterpart to add: "Not successfully."
The UK foreign secretary acknowledged the "difficulties" in relations with Russia, adding: "It is a regrettable state of affairs but it should not preclude co-operation."
He said they had identified common ground on issues such as North Korea, Syria and trade – and said the UK and Russian security services should coordinate ahead of next year's World Cup.
As the mood at the press conference relaxed, Mr Lavrov said: "I trust Boris and I trust him to an extent that I am ready to call him BorIs [Russian-style pronunciation] rather than BOris."
Mr Johnson said he adopted the approach Ronald Reagan had taken with Mikhail Gorbachev: "Trust, but verify."
'Boris's coat'
And he joked that his trust was so great that he had handed his coat with "everything in my pockets, secret or otherwise" to Mr Lavrov when he arrived at the Ministry of Foreign Affairs building.
Mr Lavrov joked back: "I can say that there was nothing in the pockets of Boris's coat", to which Mr Johnson responded in surprise: "So you have searched it already?"
Mr Johnson's trip follows Prime Minister Theresa May's accusation last month that Russia was trying to "undermine free societies".
Her criticisms were repeated by Ciaran Martin, chief executive of GCHQ's National Cyber Security Centre, who said that Russia was "seeking to undermine the international system".
Ahead of the meeting in Moscow, the UK government said Mr Johnson would warn Russia to stop cyber-attacks which threaten Britain's national security or face retaliation of a similar kind from the UK.
'Not business as usual'
By BBC diplomatic correspondent James Robbins
So what's the point of this meeting, which has been cancelled twice before?
From Britain's perspective, it's to persuade Russia – as a fellow permanent member of the UN Security Council – to co-operate against common threats: from North Korea in particular, but also from a ruined Syria where no peace settlement is in sight.
The Russian Foreign Ministry says Russia is interested in "seeking a way to normalise relations with Britain, and to reactivate cooperation".
But Boris Johnson says it cannot simply be "a return to business as usual". There are low expectations of any substantial progress.