Google gun emoji becomes water pistol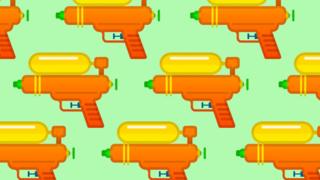 Google is to replace the gun emoji with a water pistol on its Android operating system, bringing it in line with Apple, Samsung and Twitter.
Apple led the way in 2016 in the wake of a series of shootings in the US.
It was criticised at the time for deviating from the emoji standard, which ensures the symbols carry the same meaning across rival manufacturers' devices and apps.
Facebook says it intends to follow suit but Microsoft has not yet commented.
Around the time Apple switched to a colourful water gun, Microsoft changed its pistol emoji from a cartoon-like space gun to a more realistic-looking weapon.
While the emoji standard describes what each symbol should look like, companies are free to use their own designs.
But critics have warned that deviating from the standard may lead to messages being misunderstood.
WhatsApp replaced the gun with a water pistol in 2017, while Samsung and Twitter followed suit in 2018.
Microsoft has not indicated whether it will change its gun emoji.
Google's update is expected to appear in Android 9.0 – the next version of its mobile operating system.