Blackpool seafront derelict hotel blaze tackled by 60 firefighters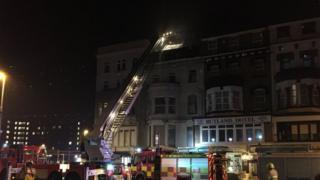 About 60 firefighters have tackled a blaze at a derelict hotel on Blackpool seafront that that forced the closure of the promenade and tram network.
It broke out at about 20:15 GMT on the top floor of the six-storey former Ambassador hotel on the North Shore.
While the fire was still burning, residents of a neighbouring hotel were evacuated, Lancashire Fire and Rescue Service said.
No-one was injured and the fire was under control after a couple of hours.
The cause of the blaze is now under investigation.