Hurricane Irma: UK to add 'further support' to £32m relief fund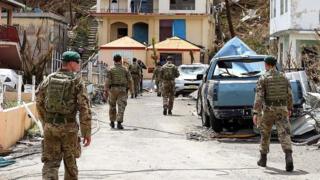 The UK government will announce fresh support for British overseas territories devastated by Hurricane Irma within days, the foreign secretary has said.
Boris Johnson said only £4m remained of a £32m relief fund after troops and police were sent to the area.
"The money is already being deployed," he told BBC Radio 4's Today programme, and "further support" is on its way.
Fifty police officers are due to arrive in the UK's overseas territories.
Some 500 UK troops have been sent to Anguilla, Turks and Caicos, and British Virgin Islands (BVI), amid reports of looting in some areas.
Mr Johnson told Today: "You can see an unprecedented British effort to deal with what has been an unprecedented catastrophe for the region.
"Of the £32m we've earmarked, £28m has already been spent and we will be announcing further support later on, in the course of the next few days."
The government, which initially set the fund at £12m, is also matching public donations to the Hurricane Irma Red Cross appeal.
But Labour leader Jeremy Corbyn has said the British government "should have acted much faster", while those with relatives in hurricane-hit areas have said they are lacking support.
Scott Baker, whose daughter Amy Brown is stranded in St Martin, an island that comprises of the French territory of Saint-Martin and the Dutch section of Sint-Maarten, said he felt "totally abandoned" by the UK government.
"There's looting and shooting going on, the resort is unable to lock the doors," he told Today.
'Full force'
Mr Baker said the crisis helpline – set up for British nationals affected by the hurricane – was a "waste of time".
"They are handing out phone numbers which are either inaccurate or out of date, one instance was actually the Puerto Rican tourist agency which wasn't terribly helpful," he said.
Communications are mostly still down in the British Virgin Islands where its premier, Orlando Smith, has called for a "comprehensive economic package for reconstruction" from the UK.
Meanwhile, Sir Richard Branson has said most of the buildings and vegetation on Necker, which is among the 50 British Virgin Islands, had been destroyed or badly damaged by Hurricane Irma.
"We felt the full force of the strongest hurricane ever in the Atlantic Ocean. But we are very fortunate to have a strong cellar built into Necker's Great House," he wrote in a blog post from nearby Puerto Rico.
Hurricane Irma is due to hit the west coast of Florida in the US on Monday, and is later expected to weaken into a tropical storm.
Mr Johnson said criticism of the UK government's response to the hurricane was "completely unjustified" and said the presence of troops was having "a massive psychological effect" on morale.
Earlier, Defence Secretary Sir Michael Fallon dismissed complaints that the UK's response was "found wanting" and that it was slower than France and the Netherlands.
At least 28 people died after the hurricane cut across 10 Caribbean countries and territories, including five people in the British Virgin Islands and one each on Anguilla and Barbuda.