Labour's John McDonnell demands 'emergency Budget'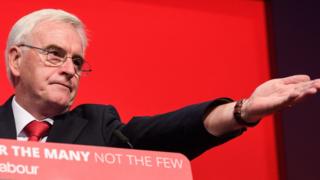 Shadow chancellor John McDonnell has demanded "an emergency Budget for our public services", which he said were in crisis.
He is promising to spend about £17bn a year extra on the NHS, social care, schools and local government.
The extra spending would be paid for by tax rises for corporations and "the rich", while tackling tax loopholes.
The government said Labour's plans would lead to more debt, higher taxes and fewer jobs.
Chancellor Philip Hammond is due to give his Budget speech next Wednesday afternoon.
Mr McDonnell, who is due to lay out his proposals in a speech at Church House in Westminster on Thursday, is expected to say that there must be "a genuine and decisive change of course" by the government, and will outline five proposals:
Pause the roll-out of Universal Credit to fix delays in benefits payments
Fund public sector pay rises
Put more money into infrastructure such as road and rail projects
Increase funding for health, education, and local government
Launch a large-scale house-building programme.
Mr McDonnell said on the BBC's Today programme: "We need an emergency budget to tackle the very emergencies our public services are having to address, so this mustn't be a Budget that's about stunts or something that will try and protect Theresa May in her job, it's got to be a serious Budget that looks at the real issues facing our community."
---
Analysis: Kamal Ahmed, BBC economics editor
John McDonnell wants to create a clear red line between him and the present incumbent of Number 11, Philip Hammond.
A week ahead of the Budget, the shadow chancellor has said that more should be spent on health, education and housing and that the public sector pay cap of 1% should be lifted.
The controversial introduction of the new benefits system – the universal credit – should also be delayed after evidence that some recipients were being left without payments for several weeks.
To pay for the new policies, Mr McDonnell will say he is willing to borrow far more, arguing it is a good time to do so as interest rates are at historic lows.
It is a position rejected by the Conservatives, with Mr Hammond saying that more borrowing now simply means more debts to be repaid in the future.
It is expected that he will focus any new spending on health and housing in that Budget, next Wednesday.
---
'On the brink'
Mr McDonnell said more action was needed to tackle what he called the "housing crisis".
The government is to wipe about £70bn worth of debt from housing associations' balance sheets, allowing them to to raise money more cheaply.
Mr McDonnell said on BBC Breakfast: "The real problem that we've got is seven years of lack of investment in housing and what we need is a large-scale housing programme, I think led by local councils, and if the government can commit towards that, we might be able to then really start to tackle the housing crisis that we've got.
"I don't think this will go anywhere near that."
Mr McDonnell said the Tories had created an economy which benefited the "rich elite" , leaving everyone else with "our vital public services teetering on the brink".
He said Mr Hammond could do far more.
"He wants to pretend he cannot invest on the scale needed, yet he has already borrowed more in his first year as chancellor than any of his predecessors in their first year at the Treasury."
Responding to Mr McDonnell's proposals, Steve Barclay, economic secretary to the Treasury, defended the government's record, saying: "We have turned our economy around by taking a balanced approach to public spending and backing businesses to create better, higher-paid jobs.
"Labour always take it too far and we know what that means from last time – more debt, higher taxes, fewer jobs – and ordinary working people paying the price."