Major calls for MPs to be given free vote on Brexit deal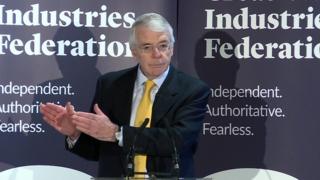 MPs should be given a free vote on whether to accept or reject the final Brexit deal, Sir John Major has said.
The ex-prime minister argues that MPs must vote with their "own conscience" on whether the deal on offer will leave the UK better or worse off.
In a speech in London, he said they could also decide to entrust the people with the final say in a referendum.
It was not unpatriotic to oppose Brexit because, he feared, it would leave the UK a "lesser actor" in the world.
Sir John, whose time as Conservative prime minister from 1990 to 1997 featured long-running battles with Eurosceptics in his party, has long been a critic of the UK's decision to leave the EU, having campaigned alongside David Cameron on the Remain side in the 2016 referendum.
Brexit has become the most "divisive" political issue of his lifetime, he said in the speech to the Creative Industries Federation.
"Brexit is a unique decision," he said. "It will affect the lives of the British nation for generations to come. If it flops – there will be the most terrible backlash.
"If Brexit is whipped through Parliament, at a time when the public are so divided about it, voters will know who to blame if they end up poorer and weaker. So, both democracy and prudence suggest a free vote.
"The deep divisions in our nation are more likely to be healed by a Brexit freely approved by Parliament, than a Brexit forced through Parliament at the behest of a minority of convinced opponents of Europe."
He said the "meaningful" vote promised by Theresa May on the final agreement must be "a decisive vote, in which Parliament can accept or reject the final outcome; or send the negotiators back to seek improvements; or order a referendum so the public may approve what has been determined".
He said he feared the compromises the UK was seeking from the EU were impossible to achieve and that Tory policy is being driven by a "minority of ultra-Brexiteers".