Manchester police face legal bid over teen's naked photo details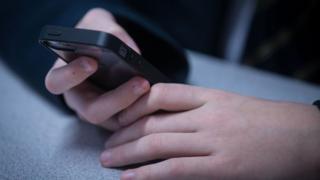 A police force is facing a legal challenge against its refusal to delete the details of a teenager who sent a naked photograph of himself on social media to a girl at his school.
The boy, 14 at the time, was not arrested or prosecuted by Greater Manchester Police.
But his mother said she was concerned police could release the information to potential employers when he is older.
The High Court is due to consider the case this morning.
The boy used a messaging site to send a photo of his naked body to the girl, who then shared it with others, more than two years ago.
His mother said she was "in complete shock" when she heard what had happened, but "this had all happened in the privacy of his own bedroom".
She said even though "he was young, he was naive, he was silly" she believes the sharing of the photo was "malicious".
'Criminalising children'
Police took no action against him other than to record on their database that he had taken and forwarded an "indecent" image of himself, logged under a section entitled "Obscene Publications".
Greater Manchester Police has refused to delete the boy's name from its files, a decision his mother is contesting at the court, which is sitting in Manchester.
She said: "It's going to be held there infinitum, so for all his adult life it hangs over him.
"I'm his parent and its my job to know when something needs to be dealt with and that's why I'm still perusing proceedings to ultimately get his name removed.
"We are criminalising our children for something that if they did at the age of 18 is not a crime.
"The law hasn't kept up with technology. By giving our children smartphones in effect we're giving them a Pandora's Box."
The force is expected to argue it would pass on the details to an employer only after weighing up the risk he presented against the impact that disclosure would have on him.
Campaign group Just for Kids Law, which is supporting his family, says it is aware of other so-called "sexting" cases where police have been criticised for being too heavy-handed.
The Home Office is an interested party in the proceedings. Its position is understood to be that although police have to record such incidents, it is at their discretion whether they include the name of the person.