Sadistic killer Jason Marshall jailed for 39 years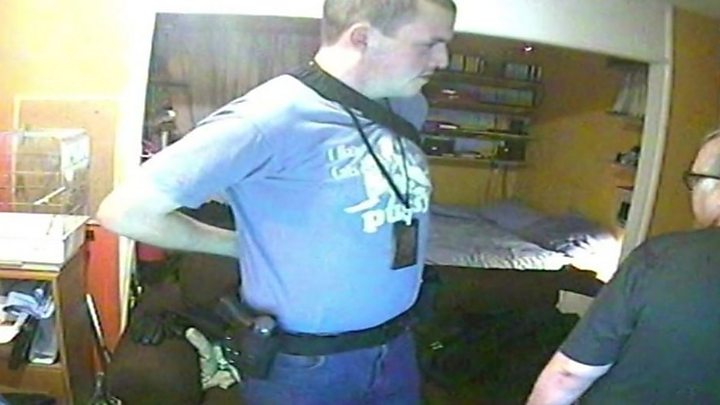 Sadistic killer Jason Marshall, who was filmed murdering a man during a bondage sex session, has been jailed for 39 years.
Marshall, 28, posed as an MI5 agent before torturing and smothering 58-year-old Peter Fasoli to death in his home in Northolt, west London.
Following the January 2013 attack, he set fire to the bungalow.
Mr Fasoli's death was thought to be a result of the fire until recordings of the murder were found on his computer.
Man 'murdered by fantasist in sex game'
'Bondage killer' murdered man in Italy
'PC fantasist' guilty of sex game murder
On Tuesday, Marshall was sentenced to life with a minimum of 39 years at the Old Bailey.
He tortured his victim for "sexual gratification" Judge Nicholas Hilliard QC said in sentencing.
He said: "You tortured him for so long because you enjoyed it so much.
"I'm sure that you can have felt no remorse whatsoever for what you have done."
After the killing, Marshall fled to Rome using money and credit cards stolen from Mr Fasoli.
He was extradited after being found guilty of strangling a man to death and attacking another man in Italy.
Less than three weeks after Mr Fasoli died, Marshall killed Vincenzo Iale, 67, using an electrical flex in his flat in Rome.
Jurors were shown video recorded on Mr Fasoli's hard drive of Marshall tying him up, gagging him and smothering him with cling film.
The harrowing footage was found by the victim's nephew Christopher Murgatroyd, who examined his uncle's fire-damaged computer in November 2014 as part of research into his family tree.
The murder trial heard how former male escort Marshall stalked victims on gay dating website Badoo.
He arranged to meet Mr Fasoli on the pretext of a bondage sex session but planned to rob him.
He arrived dressed as a law enforcement agent, complete with handcuffs, holster and latex gloves.
He "arrested" Mr Fasoli "for being a spy" and during his fake interrogation he threatened to cut his tongue with a large hunting knife to extract his PIN numbers.
'Bizarre history'
Marshall, from East Ham, east London, who is already serving 16 years for the attacks in Italy, claimed to be suffering from amnesia.
Mitigating, Tomas Quinn said his client had a "bizarre history" of impersonating police officers, ticket inspectors and special constables.
But he was not sophisticated, deliberate, long-term targeted or focused in his crimes, he said.