Liu Xiaobo: German anger at video taken of China visit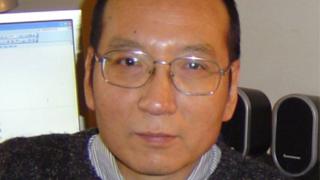 An online video of Western doctors visiting ailing Chinese dissident Liu Xiaobo in hospital has prompted a sharp rebuke from Germany.
German officials are accusing Beijing of ignoring Berlin's request that no recordings be made of the visit. One of the doctors was German.
They also said that security services, rather than doctors, are steering his treatment for liver cancer.
The pro-democracy activist was moved from prison to a hospital last month.
He was serving an 11-year sentence for subversion.
Following international pressure, Beijing allowed two doctors – Markus Buchler from Germany and Joseph M Herman from the US – to examine the dissident.
Over the weekend the doctors said he could go abroad for palliative care, directly contradicting Chinese medical experts who said previously that Mr Liu is too ill to travel.
On Sunday, a video surfaced online appearing to show the two doctors at Mr Liu's bedside, along with his wife Liu Xia, and several Chinese doctors and nurses.
The German embassy in Beijing on Monday night released a statement accusing "certain authorities" of making audio and video surveillance recordings of the visit, and then leaking them "selectively to certain Chinese state media outlets".
This, they said, constituted a breach of doctor-patient confidentiality.
The recordings were also "made against the expressed wishes of the German side, which were communicated in writing" before the visit.
"It seems that security organs are steering the process, not medical experts. This behaviour undermines trust in the authorities dealing with Mr Liu's case, which is vital to ensure maximum success of his medical treatment."
Mr Liu, who won the Nobel Peace Prize in 2010, is said to be in critical condition.
Last week the hospital, in the north-eastern Chinese city of Shenyang, said his liver functions were worsening.