Person injured in new Austin 'incident'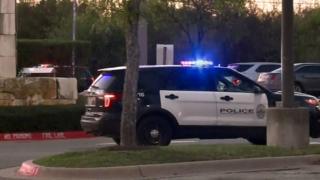 The reported explosion on Tuesday evening that injured one man in Austin, Texas, was an incendiary device, not a package bomb, police say.
They say that at this time they have no reason to believe "this incident" is related to recent package bombs in the area that killed two people.
President Donald Trump said "sick people" carried out those blasts.
The authorities said the earlier blasts – involving package bombs and a tripwire – were related.
On Tuesday evening, the Austin fire department said a man in his thirties received "potentially serious" injuries in the explosion at the Goodwill charity shop on Brodie Lane.
Local police later tweeted that "there was no package explosion" and that "items inside package was not a bomb, rather an incendiary device".
They have released no further details about what the "incendiary device" was.