Syria war: Russia says no agreement on ceasefire resolution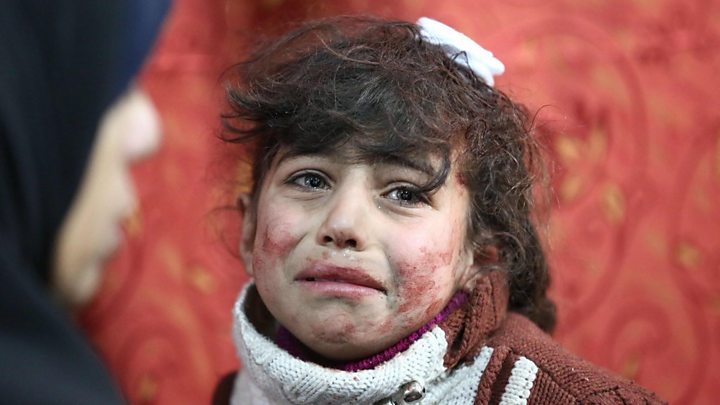 Russia is calling for changes to a UN resolution for a ceasefire in Syria amid growing outrage over government bombardment of a rebel area.
Russia's UN ambassador called for "feasible" not "populist" action.
But Western diplomats accuse Russia of stalling for time in the Security Council. France said failure to act may spell the end of the UN itself.
About 400 people have been killed in the Eastern Ghouta enclave, near Damascus, in five days, activists say.
The UN body in New York is due to vote on the resolution on Friday at 11:00 local time (16:00 GMT).
Russia, one of five powers that can veto a resolution, is a key backer of Syria's President Bashar al-Assad in the civil war. Western powers suspect that Moscow wants to give its ally time to deal a final blow to rebel forces.
The United States, the UK and France are calling for the resolution to be approved without delay.
What does the resolution say?
The draft, put forward by Kuwait and Sweden, calls for a 30-day nationwide truce to go into effect 72 hours after the resolution is passed.
Medical evacuations and aid deliveries would start 48 hours after that. The draft says 5.6 million people in 1,244 communities across the country are in acute need.
Russia says it has presented amendments to the draft resolution – but Sweden's UN ambassador Olof Skoog told the BBC that getting aid to the Eastern Ghouta was the main objective.
"I think that without the pressure coming from a united Security Council things are not happening the way they should on the ground," he said.
"So I think for the council it's a little bit less about the details and more about giving a political pressure to ensure that this happens."
France's UN ambassador François Delattre said the UN's inability to help Syrian civilians would result in a devastating loss of credibility.
"The Syrian tragedy must not also become a graveyard for the United Nations," he added.
The draft resolution also calls for all parties to avoid establishing military positions in civilian areas, including schools and hospitals. Sieges of populated areas should be lifted.
What are the Russian objections?
Under the terms of the resolution, any ceasefire would not apply to the Islamic State group, al-Qaeda and the al-Nusra Front.
But Russian Foreign Minister Sergei Lavrov has made clear that Hayat Tahrir al-Sham, an al-Qaeda-linked alliance that has a presence in the Eastern Ghouta, must also be excluded.
Mr Lavrov said he also wanted to exclude rebel groups in the enclave who are "co-operating" with Hayat Tahrir al-Sham and shelling nearby government-held areas.
Russia's UN ambassador Vassily Nebenzia stressed the need for a resolution that would actually work.
"What we need is not symbolism, not decisions for the sake of decisions, but rather measures that are undertaken that are commensurate with conditions on the ground," he said.
How bad is the situation in the Eastern Ghouta?
For the fifth day running, Syrian government forces carried out a wave of air and artillery strikes on Thursday.
The number killed since Sunday has risen to at least 403, the Syrian Observatory for Human Rights monitoring group says, as 46 more died on Thursday.
Barrel bombs and shell fire have rained down in what the UN has described as "hell on earth" for the 393,000 people trapped there.
The Syria Civil Defence, also known as the White Helmets, said residential areas in the town of Douma came under sustained attack, first from ground-to-ground rockets and then government and Russian jets.
Spokesman Siraj Mahmoud said the organisation was being deliberately targeted by government aircraft, with four rescuers killed since Sunday night. "Everyone knows it is an extermination," he told the Associated Press.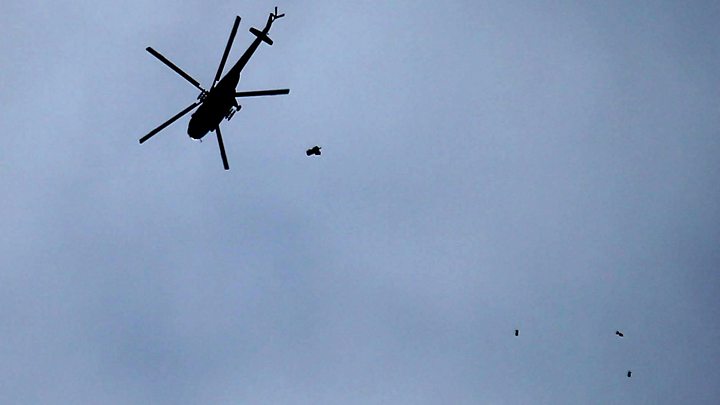 The Syrian state news agency meanwhile reported that a child was killed and six civilians wounded in the government-controlled Barzeh district of Damascus by rebel shellfire. Army units responded with "precision strikes", destroying a number of rebel positions and inflicting heavy losses, it said.
The UN humanitarian co-ordinator for Syria, Panos Moumtzis, echoed calls for a ceasefire.
Referring to the harrowing images coming out of the Eastern Ghouta, he said: "If this is not going to convince [UN security] council members, council states, of the need for a ceasefire, honestly we don't know what is it that would convince them."
The Syrian government has denied targeting civilians and insisted it is trying to liberate the Eastern Ghouta from "terrorists" – a term it has used to describe both jihadist militants and the mainstream rebel groups that dominate the enclave.
Aid groups report dozens of hospitals being put out of action since Sunday.
Médecins Sans Frontières (MSF) said the government's siege was also preventing medics from obtaining essential life-saving supplies, warning that its facilities had completely run out of supplies of blood bags, general anaesthetic drugs and intravenous antibiotics.